Here is our AI Use Case Grid. We use this to shape early discussions about where AI can drive most value from an organisation. It allows us to explore opportunities, quantify value and develop project prioritisation and roadmaps.
The grid maps to high level organisation processes and then links to core outputs of AI models to help understand existing organisational capabilities. This allows us to frame potential gaps and determine the value add from applied analytics and AI.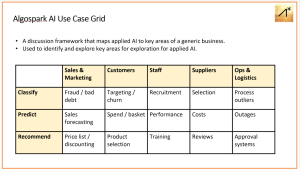 Get in touch to learn how we can help you fast track value from analytics and artificial intelligence.